WEIGHT INDICATOR SYSTEMS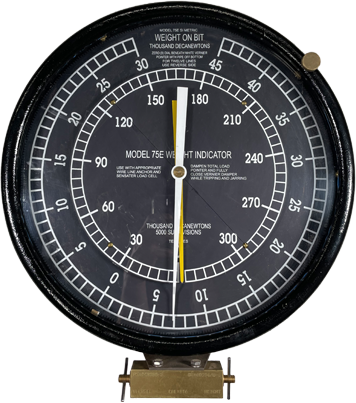 ANCHOR TYPE WEIGHT INDICATOR
The Control Drilling Anchor Type Weight Indicator assists the driller in maintaining consistent weight on bit to achieve an efficient and economical rate of penetration. This style of indicator is equipped with an outer rotary dial for monitoring weight on bit, and an inner dial for total hook load. As well, these indicators include a 4:1 Vernier pointer for 4X resolution and sensitivity.
These indicators can be located in a panel, such as a drillers console, or mounted conveniently via rear bracket.  The load cell (compression or tension) is installed in the deadline anchor, and sends a reliable signal to the display.
To Order Please Specify:
Number of Lines Strung
Size of Line
Single Line Load
Length of Hose required from Load Cell to Indicator
Type of Deadline Anchor
Preferred Engineering Units (Decanewtons, Pounds, or Kilograms)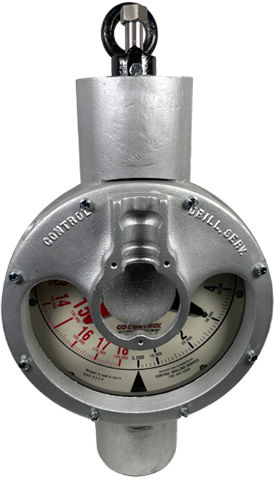 The Cameron Type Weight Indicator provides the user with an accurate measurement of hook load throughout the drilling process. This type of weight indicator is extremely durable, and can operate effectively even in extremely cold conditions. Interchangeable "shoes" can be swapped out to accommodate differing line sizes, and an adjustable load bolt can be turned to fine tune weight readings. An optional light assembly can be supplied if visibility is an issue.
The Type C model can measure up to 180,000 daN, and be adjusted for 6, 8, or 10 lines strung.
The Type G model can measure up to 270,000 daN, and be adjusted for 8, 10, or 12 lines strung.
Pounds and Decanewton dials are available.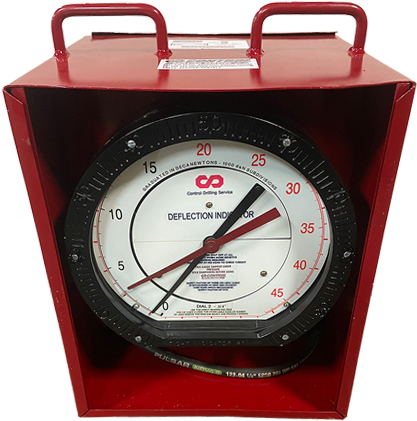 The Control Drilling deflection style weight indicator is an industry standard. For years it has been the go to hydraulic system for monitoring weight on smaller drilling rigs and service rigs. Compact and easy to view, the cost effective Clipper comes with switchable dials that allow the user adapt to changes in line size and the number of lines strung depending on current the rig set up. The complete clipper comes mounted in a steel box with a 2″ NPT coupling for trouble free placement on the rig floor. A 25′ hose, diaphragm C-clamp, and deflection diaphragm are all part of the package. Standard dials included are 4-7/8″, 4-1″, 6-7/8″, and 6-1″.
Dials Available:
7/8″ – 2 Lines, 4 Lines, 6 Lines
1″ – 4 Lines, 6 Lines, 8 Lines
1 1/8″ – 6 Lines, 8 Lines
1 1/4″ – 6 Lines, 8 Lines
2 Line though 10 Line
Maximun single line load 39,000 pounds
Decanewton, Pounds, and Kilogram Dials available
Swaged Line, Dials Available
Mounted in steel box with doors for transport