ELECTRONIC SYSTEMS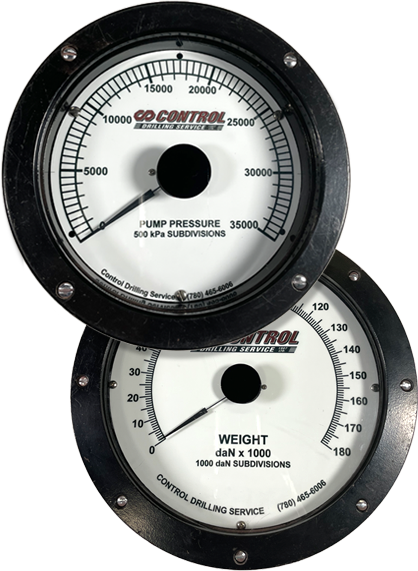 6 AND 8 INCH ELECTRONIC GAUGES
Control Drilling offers high quality Electronic Gauges in both 6″ and 8″ gauge face diameters. This digital option offers a safe alternative to running high pressure hydraulic hoses. With Electronic Gauges, Control Drilling can supply monitoring equipment for a diverse array of applications, such as: digital pressure gauges, tong torque gauges, pump stroke gauges, electronic weight indicators, and electronic hook load sensors. An electronic system is easily used in tandem with a hydraulic system for greater reliability.  Customized dials are available upon request!
Additional Information:
6" and 8″ dial face with colourful custom logos
Dual scales and metric equivalents on dial in kg/cm2, MPa, KPa, and bars
Selectable units of measure on digital readout in PSI, MPa, KPa, and bars
LED backlighting, user adjustable
High/Low adjustable alarm settings with a relay

 

Over-pressure shutdown feature
Input Voltage: 12-36 VDC
Signal inputs available: 4-20 mA, 0-5 VDC, 0-10 VDC, and 3mV/V
Intrinsically safe option (additional barrier required)
Zero adjustment capabilities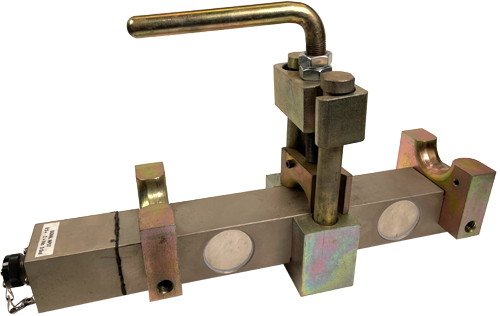 Our Electronic Deflection Load Cell Clamps onto the deadline and sends an accurate and reliable signal to the gauge or display of your choice. Using this type of Load Cell can eliminate the need to run hydraulic hoses, and is considerably lighter and more maneuverable than the classic hydraulic alternative.
Additional Information:
this until can accommodate 3/4″ to 1-3/8″ line sizes
single line load capacity is up to 40,000 LBS or 20,000 daN
various connectors are available
4-20 mA output
12-36 Vdc input
clamps easily to the dead line
provides reliable and accurate readings in all weather conditions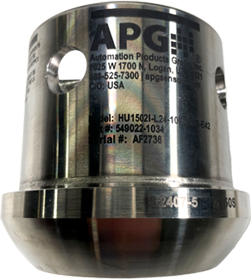 At Control Drilling Services we supply and service a wide range of electronic transducers. With a design that includes fully welded bodies, shock resistant internals, and large drain holes, vibrations and weather are a non issue. These hammer union pressure transducers are an important addition on many Oil & Gas rigs. They provide crucial monitoring during drilling and production. They are Intrinsically Safe, Sour Gas Compatible, and can be Recalibrated.
Some Applications include:
Acidizing
Measurement While Drilling
Choke Manifolds
Extraction
Fracturing and Cementing
Mud Pumps
New Well Development
Nitrogen Injection
Service and Cement Trucks
Standpipes
Stimulation
Wellhead Measurement
To Order, Please Specify:
Output Signal and Voltage
Pressure Range Required
Length of Cable and Pin Configuration